FEATURE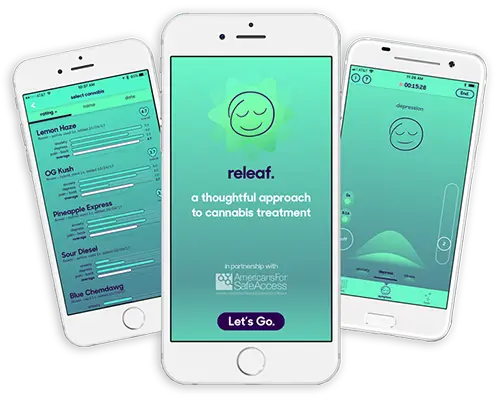 What is Releaf?

Releaf is a patent pending app that enables you to anonymously track real-time and historic experiences with specific cannabis & CBD products. Easily track the product you're using, where you purchased it from, why you are using it, relatively how much you used, as well as symptom relief, feelings, and side effects you experienced. The more product use and outcomes you share with Releaf, the more intelligent the reports are that Releaf will provide back to you. Use these reports to inform your next purchase or treatment decision, or share with your doctor, caregiver, dispensary staff, loved ones, and friends.

Identify the most effective products, administration methods, and dosing practices for your needs and goals.

Have you ever been looking at an online dispensary menu and get confused about THC%, THCA%, Why is almost everything a Hybrid?? It's easy toWhether treating a specific medical symptom, or seeking a specific experience, Releaf helps you take a more mindful approach to your product use. Tracking your dosing, level of symptom relief, feelings, side effects, and more for each product you use will help you easily compare which products were the most beneficial for you. Review in-app reports with customized trends and insights based on your use to learn what products and administration forms are proving to be the most effective. With the knowledge gained from Releaf's intelligent reports you are able to make informed purchasing and treatment decisions.

Download Releaf App for free and join our global effort to help individuals like you seek better and faster releaf.