FEATURE


Cannabis and the Creative Process
By: Kassie Ferrero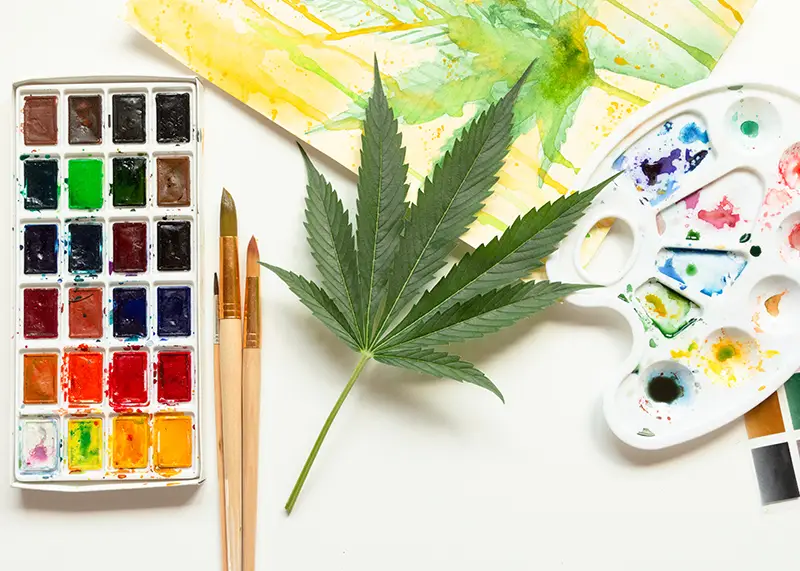 Within the cannabis community, there is a general consensus that cannabis helps facilitate the creative process. Artists, musicians, scientists, and creatives alike have all vouched for this notion but why is this the case? What is it about cannabis that enhances creativity?

There have been a number of studies throughout the years on cannabis and its effects on creative cognition. While there is still uncertainty around the topic, some have suggested that cannabis can affect the brain in two ways. First, it is suggested that cannabis helps with divergent thinking by stimulating blood flow to the frontal lobe. Divergent thinking is crucial to the creative process because it gives the creator an opportunity to think outside of the normal realm, leading to new possibilities. Second, it is believed that cannabis helps rid the creator of inhibition by slowing down the prefrontal cortex, the part of the brain that is responsible for a number of cognitive functions including decision making, conflict resolution, mood regulation, and timing. Being able to act on new ideas without any previous reservations is imperative in the creative process, as it allows the creator to carry out the final step in bringing their ideas to life.


As both a professional musician and a cannabis patient, I can personally attest to its relevance to creative thinking. Cannabis has consistently been shown to ignite the creative process and can be invaluable particularly when working on new projects. With the help of cannabis, artists can ignite the creative process with new perspectives or renovations to existing ones. Cannabis alone doesn't create the artist, but the right strain and consumption method can be the perfect catalyst to the creative process.

While science and personal perspective have suggested the complementary nature of cannabis and creativity, dosage is key. Too little and the sparks won't fly, but too much will dampen the mind in a non-conducive way. Utilizing the golden rule, "slow and low", is the most beneficial way to utilize cannabis in the creative realm. The next time a creative push is needed, try some of these recommended strains, which can all be found at one of our four Kansas City Cannabis locations:



Chem 91 - 7g flower from Proper Cannabis
Gelato - 0.5g cartridge from Ostara Cannabis
Gelato -0.5g live resin cartridge from Vivid Cannabis
Durban Poison - 0.5g distillate cartridge from Double Bear
Durban Poison -0.5g live resin cartridge from Clovr Cannabis
Lilac Diesel - 3.5g flower from Glaze Cannabis
Blue Dream - 3.5g flower from Stability Growers
GG4 - 0.5g live rosin cartridge from Cannabis Inc.
Maui Wowie - 0.5g live resin cartridge from Airo

Come on in and chat with any of our knowledgable budtenders. They can help find one of the above products or another item that will help boost your creativity!